Visit Elliott Manufacturing at MRO Americas
Visit Elliott Manufacturing at MRO Americas
From April 9-11, aerospace professionals will convene in Atlanta, GA, at the annual MRO Americas event, a three-day trade show exhibition and paid conference, which includes a State of the Airlines address by industry leaders. Elliott Manufacturing is a long-standing supplier to aerospace OEMs and the aftermarket. Find us in booth #5051 where we will showcase our aerospace flexible shaft systems for power transmission.
---
Elliott and the aerospace industry
Elliott designs and manufactures flexible shaft power transmission products for aerospace leaders worldwide — providing innovative solutions for original equipment and maintenance, repair and overhaul (MRO) needs. Our technology is used in a wide variety of aerospace applications, including thrust reverser actuation, flat and slat actuation, canopy actuation, cargo door bay actuation, ignition leads, seat adjustment drive cables and passenger door drives. Elliott flexible shaft systems can be found around the globe in private and commercial planes, military planes, helicopters, tanks and ground support systems.
Elliott aerospace products have all necessary testing, certification and approvals, including ISO 9001-2008, AS9100 Rev C, CAGE codes, PMA, TC and NSN.

---
Click here to learn more about Elliott's power transmission solutions for aerospace. To request a quote or schedule a meeting at MRO Americas, call 607-772-0404 or contact us now.
---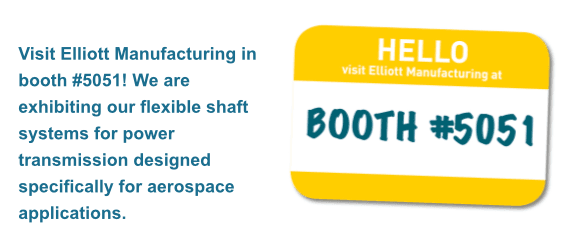 ---
About MRO Americas
MRO Americas provides a world class venue for everyone in the aerospace MRO sector to exchange ideas and best practices, share experiences, debate issues, and challenges and gather knowledge. The event draws more than 15,000 attendees. Airlines, MROs, suppliers, OEMs, regulators and industry experts gather to define the aviation maintenance industry.
Aviation Week calls MRO Americas the premier event for the commercial air transport maintenance, repair and overhaul industry, designed by the leading and trusted brand in the aviation/aerospace industry.
Superior editorial content and an extensive conference agenda provide thought leadership on the crucial industry issues and concerns, and an unrivaled industry forum where key intelligence is gathered and real business leads are generated.
MRO Americas offers unparalleled networking opportunities over the three days of the event and is the place to forge new partnerships and cement existing relationships.
---
About the aerospace market
In 2019, the civil aviation MRO market is predicted to reach $73 billion. Aviation Week reports these other key market trends for this year:
Companies will start using blockchain for asset documentation, tracing and life-cycle management.
Small and medium-size aftermarket companies with a niche or specific targeted technology will be sought by bigger aftermarket companies.
Engine OEMs will finish tackling the early teething problems of new-generation engines and successfully ramp up deliveries to unprecedented levels.
Expect new MROs to open and create formidable competition, North American and European MROs will continue adding local presence in Asia, and a few existing Asian MROs will aggressively seek deeper capabilities in their quest to become one-stop shops.
Forward-thinking MROs will implement tools such as voice technology for hands-free maintenance, virtual reality, augmented reality and paperless MRO environments in greater numbers to improve technicians' maintenance processes.
---
What can we design for you?
Elliott Manufacturing engineers can work with you to design a flexible shaft system that exactly fits your aerospace application. Contact us now.