Visit Elliott Manufacturing at AgriShow 2019
Visit Elliott Manufacturing at AgriShow 2019
Are you attending Agrishow 2019 beginning April 29 in Ribeirao Preto, Sao Paulo, Brazil? If so, look for exciting new products from Elliott Manufacturing in the Raven Applied Technology booth #A7A. Agrishow is the most anticipated agricultural fair in Latin America offering a firsthand look at the very latest technologies and trends. Each year, Agrishow welcomes close to 160,000 visitors and over 800 brands.
---
Elliott Featured Products
At AgriShow 2019, Elliott will launch our new electric motor with open communication protocol (ISOBUS), which eliminates the need for an integrated clutch. This intuitive design provides the best control in the planting process by precisely managing the seed disc rotation, curve compensation, line-by-line shutoff and variable rate.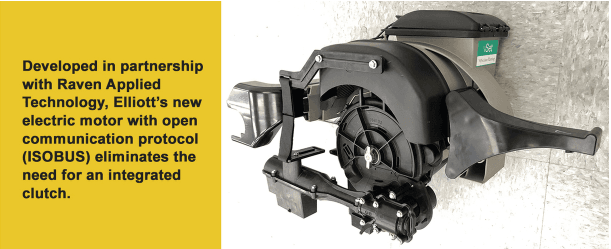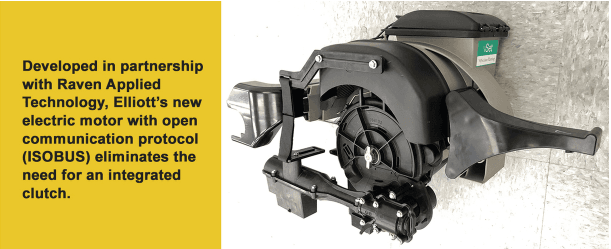 Elliott developed our new electric motor product in partnership with Raven Applied Technology. Deeply committed to feeding a growing world population, Raven develops precision agriculture products that promote environmental stewardship, allowing farmers to grow more with less.
A smart new upgrade for John Deere DB Series planters
We'll also feature a new Elliott seed meter clutch that is designed to upgrade John Deere DB Series planters with a Pro-Shaft™ Drive to an electric clutch system.
This exciting new products is in the early phase of production, but we'll offer visitors a sneak peek at a 3D printed concept.
In the Raven booth, Elliott will also display a number of other innovative flexible drive and control shaft products that bring enhanced performance to original equipment machinery and offer simple and dependable aftermarket upgrades for an ongoing return on investment.
Click here to download a brochure on Elliott's smart flexible shaft solutions for agriculture. To request a quote or schedule a meeting at AgriShow 2019, call 607-772-0404 or contact us now.
---
About Brazil's Agricultural Market
According to research from the US. Department of Agriculture, Brazil's agricultural production has grown rapidly over the past two decades, driven by rising global demand, strong prices and ongoing technological advances. Expansion in areas harvested and changes in crop management practices have allowed Brazil to become a leading exporter of soybeans, corn, sugar, meat, coffee and ethanol. Further growth in agricultural production and exports is anticipated due to continued productivity increases and more land available for farming. Growth in per capita income and population will also continue to fuel demand throughout Brazil for agricultural products, including higher value commodities.
Brazil has:
Emerged as the largest U.S. competitor in the global corn market with second-crop corn, harvested late in the local marketing year, boosting exports from September to January.
Become an important producer and trader of soybeans and corn and now competes with the United States in world markets.
Established itself as one of the world's leading cotton producers and an important competitor of the U.S. in Asian and European cotton markets.
---
What Can We Design for You?
Elliott Manufacturing engineers can work with you to design a flexible shaft system that exactly fits your agricultural application. Contact us now.
---

Connect with Us!
Elliott is on your favorite social media sites. We routinely monitor news from the industries we serve — including agriculture, aerospace, commercial, defense, lawn and garden, marine, medical and power gen — and share it with our followers, along with key updates and information from Elliott. Like us on Facebook and follow us on LinkedIn today.