Elliott Flexible Shafts Won't Let the Dust Settle!
Every day, Elliott Manufacturing flexible shafts safely and efficiently transfer rotational power, often reaching the tightest, most difficult spots. In the world of HVAC, our innovative flexible shafts transmit power in duct cleaning equipment from the power supply to the brush head, bending around corners as needed to get the job done. As Elliott shafts allow the brush head to rotate within the duct work, debris, dust and other contaminants are dislodged and vacuumed out. Thanks to the flexibility of an Elliott shaft, the device can be easily positioned within ductwork to completely clean the interior of the duct from an exterior access point.
---
About duct cleaning equipment
Professional duct cleaning services use specialized blowers, vacuums and brushes to clean out the supply, intake and return ducts throughout a home or commercial building. Typically, duct cleaning also involves a thorough cleaning of the air handler, registers, grills, fans, motors, housings and coils of the HVAC system. Elliott supplies many of the leading duct cleaning OEMs around the world.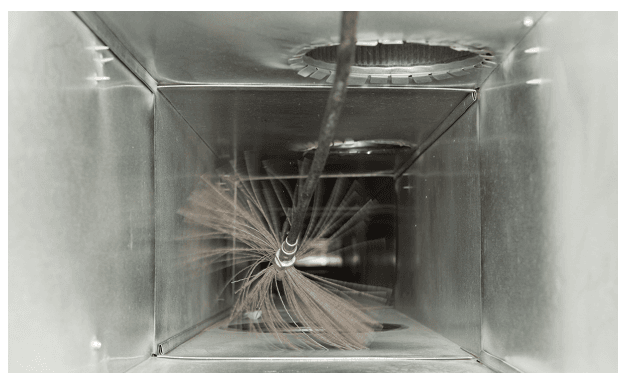 ---
Elliott flexible shafts in action
Elliott flexible shafts used in duct cleaning equipment replace a motor-in-head vibrator or a pneumatic vibrator. These flexible shafts generally use a median core diameter of 0.250"-0625" with a carbon steel core. The core, which rotates within the casing, features multiple layers of helically wound wires. The casing, which does not rotate, provides multiple services. It protects the core from the environment, provides support and prevents helixing under load.
An Elliott flexible shaft assembly can also contain ferrules (terminals) attached to the ends of the casing, fittings to connect the driving and driven elements, and couplings on each end of the assembly to engage with the mating components. All of these components can be customized to provide the perfect flexible shaft for your duct cleaning equipment.

---
Benefits of Elliott flexible shafts 
With an Elliott flexible shaft assembly in your duct cleaning equipment, you are assured a safe and efficient transfer of rotary power with a range of real benefits including:
Simple solution when direct alignment is not possible or an issue

Enhanced vibration absorption and isolation

Simplified power transmission designs and applications

Reduction in overall design time

Lower initial assembly and maintenance costs without impacting safety

Reduced need for universal joints, gears, pulleys and couplings
---
Why duct cleaning is important
There are numerous reasons to have ducts cleaned:
Renovation If the home or building has been remodeled, dangerous dust and debris may become lodged inside the ductwork — especially if there was asbestos abatement, lead paint removal or significant dust.
Animals Animals can infest or nest in ducts or HVAC systems. If there is evidence of this, have the animals removed and clean the ductwork and HVAC unit.
Mold If there is visible mold growth inside the ductwork, the ducts and HVAC system should be cleaned.
Contaminants If noticeable debris, pet hair, odors or other contaminants are being released into the room through the ducts after the registers have been cleaned and vacuumed; the ducts may need to be cleaned.
Illness An unexplained allergy-related illness may be related to ducts or an HVAC system. 
---
What can we design for you?
Elliott Manufacturing engineers can work with you to design a flexible shaft system that exactly fits your duct cleaning equipment or other products. Contact us now. 
---