CONEXPO-CON/AGG is coming up fast and Elliott Manufacturing will be there!
Stop by booth #C31036 at CONEXPO-CON/AGG to see our dependable and durable flexible shaft solutions that are used in a wide range of construction applications, and to meet the Elliott team. When you need power transmitted, Elliott flexible shafts get the job done, efficiently and reliably.
---


Visit us at CONEXPO-CON/AGG, booth #C31036, to learn more about our flexible shaft solutions for construction applications!
---

---
Elliott engineers can design a custom flexible shaft solution for your construction application. Contact us now. 
---
About CONEXPO-CON/AGG 2020
CONEXPO-CON/AGG is North America's largest construction trade show representing asphalt, aggregates, concrete, earthmoving,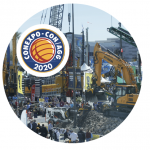 lifting, mining, utilities, and more. Held every three years in Las Vegas, the show brings together more than 2,800 exhibitors in 2.5 million square feet of space. The 2017 event drew nearly 128,000 attendees, including contractors, dealers, distributors, service providers, engineers and producers. 
---
Connect with Us!

Elliott Manufacturing is on your favorite social media sites. We routinely monitor news from the many industries we serve — including aerospace, agriculture, construction, defense, lawn & garden, marine, medical, and power gen— and share it with our followers, along with key updates from Elliott. Like us on Facebook and follow us on LinkedIn today.