Visit Elliott at Bombardier in Orlando
From April 23 – 26, aerospace insiders will gather in Orlando, FL, at the annual Bombardier All Operators Conference and Tradeshow. Are you going to the show? If so, be sure to visit Elliott Manufacturing in booth  #820. Held annually by global aviation leader Bombardier, this show is a unique opportunity to showcase innovations in aerospace and connect with those involved in all aspects of the commercial aircraft (C Series, CRJ and Q Series) industry.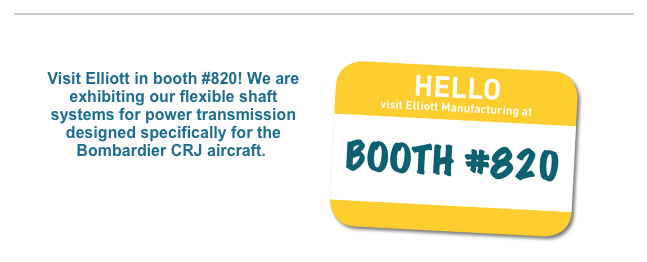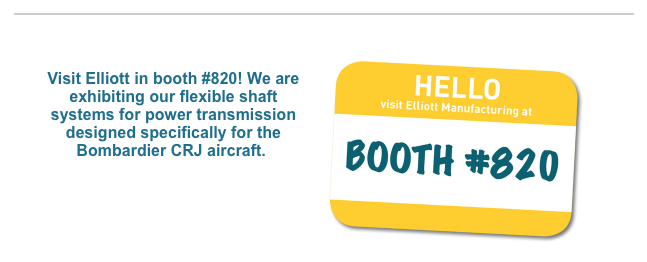 Elliott's Role in Aerospace

Elliott designs and manufactures flexible shaft power transmission products for Bombardier and other aerospace leaders worldwide — providing innovative solutions for original equipment and maintenance, repair and overhaul needs. Our technology is used in a wide variety of aerospace applications, including thrust reverser actuation, flat and slat actuation, canopy actuation, cargo door bay actuation, ignition leads, seat adjustment drive cables and passenger door drives. Elliott flexible shaft systems can be found around the globe in private and commercial planes, military planes, helicopters, tanks and ground support systems.

Elliott aerospace products have all necessary testing, certification and approvals, including ISO 9001-2008, AS9100 Rev C, CAGE codes, PMA, TC  and NSN.
Click here
 to learn more about Elliott's power transmission solutions for aerospace. To request a quote, call 607-772-0404 or 
contact us now
. 


About the All Operators Conference and Tradeshow

The All Operators Conference and Tradeshow is an interactive and informative event designed to promote Bombardier Customer Services' partnership with commercial aircraft operators, suppliers and partners, as well as industry affiliates. The event highlights key operational achievements and creates a unique opportunity for all participants to network with airlines, industry experts and program suppliers. During this four-day conference, Bombardier also recognizes top-performing operators and suppliers by announcing the winners of the company's annual Airline Reliability Performance Awards and In-Service Supplier Top Achievement (STAR) Awards.


How CRJ Series Jets Have Changed the Industry
Canadair Regional Jet (CRJ) Series regional jets have transformed the airline industry making aviation better and more accessible to people around the world. These regional jets, which typically seat under 100 passengers, rose to popularity because of distinct operational advantages:
Optimized seating capacity 

Cost and fuel efficiency

O

perating range

F

lexibility of route development
CRJ Series jets have helped airlines expand profitably, offering critical and convenient air service to smaller communities. In Germany, where the CRJ100 first launched, the aircraft helped Lufthansa reliably, and cost-effectively, add services to Western and Eastern European cities from its hubs in Frankfurt, Munich, Dusseldorf and Hamburg. 
Air Canada put CRJ aircraft to work on new trans-border routes to city pairs in the U.S. after the signing of the Open Skies agreement between the two countries in 1995.
In the U.S., CRJ planes helped airlines expand to underserved airports in smaller communities without violating existing "scope clause" agreements with mainline fleet pilots and brought additional traffic to the mainline hubs.