Elliott Flexible Shaft Helps Power 1944 Dragon Rapide airplane!
When Sealand Aviation Ltd. needed a custom flexible shaft to complete restoration on a 1944 Dragon Rapide airplane, they turned to the aerospace experts at Elliott Manufacturing. Elliott's design team flew to the rescue and the historic aircraft is airworthy again.
Solving a Historic Problem
Sealand Aviation, a North American leader in aircraft maintenance and repair, was restoring a 1944 de Havilland DH89A Dragon Rapide airplane when they realized a critical part was required. Sealand's aviation mechanics needed a flexible shaft to drive a 50 amp generator, which would provide seven amps of power for gauges, lights and instrumentation. The company reached out to Elliott Manufacturing, who has more than 50 years of expertise supplying flexible shaft power transmission solutions for aerospace.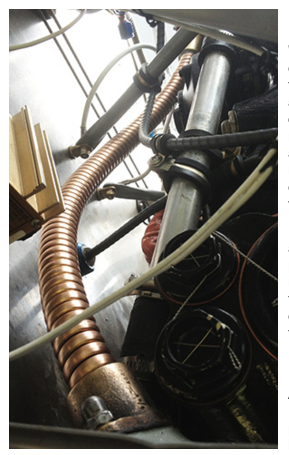 Elliott in Action
"Our team rose to the challenge to develop a durable power drive flex shaft that was capable of producing seven amps of power without causing an overload or reaching extreme heat," noted John Koulikas, Elliott's product account manager for aerospace. "What's more, we needed to match the look and design of the vintage plane and meet a very tight turnaround."
Kevin Hause, a senior design engineer at Elliott helped research the vintage part to identify optimal construction materials. Bill Garlick, an Elliott test lab technician, worked with other internal departments to get the materials, build the custom part, and ship it to Sealand in record time.
In a follow-up thank you letter, Sealand Aviation's Quality Assurance Officer Kaven Tremblay wrote, "Without the prompt and knowledgeable assistance by Mr. Koulikas, and the timely manner in which his staff located and shipped the product, the Rapide would not have been completed prior to our deadline for delivery. Our appreciation of Elliott Manufacturing going the 'extra mile' to provide us with materials that are appropriate and mimic the look of the originals cannot be understated."
"I'm extremely proud of our entire aerospace team," Koulikas said. "There are only 16 Rapides still in existence, mostly in museums, and only four are airworthy." He added, "It was exciting to be a part of this restoration project and to be able to solve Sealand's problem. At Elliott, we're always happy to go that extra mile and deliver just what a customer needs, even when it's a 74 year old part."


About the Dragon Rapide
Built by British aircraft company de Havilland and introduced in 1934, the Dragon Rapide was a short-haul biplane airliner that was capable of carrying up to eight passengers and one crew member. An economical and durable craft, it was popular with airlines and private civil operators around the world. During the 10 years it was in production, 728 were built for commercial and military use, the latter as the Dominie.
The de Havilland Aircraft Museum located in Hertfordshire, United Kingdom, has a Dragon Rapide on display. It was built as a Dominie for military service but was not needed and converted to a Rapide in 1945.


Elliott Expertise in Aerospace
Elliott flexible shafts are used in aerospace applications around the globe, including thrust reverser actuation systems, flap and slat actuation systems, seat adjustment drives and passenger door drives. Our aerospace products have all necessary testing, certification and approvals, including ISO 9001-2008, AS9100 Rev C, CAGE codes, PMA, TC, and NSN.
To learn more or request a quote for your unique application, call us today at 607-772-0404, email us now.