New Brochure, Hot Off the Press!
Want to learn more about Elliott Manufacturing's remote valve control systems? We just published a new brochure detailing our industry-leading remote valve actuation systems. Elliott's flexible shaft systems are the most versatile, reliable and proven approach to remote mechanical valve actuation available today. Download our brochure now.


Elliott's Role in Remote Valve Actuation

Elliott is a long-term supplier of remote valve actuation systems to a variety of demanding industrial markets — including waste and water, chemical processing, petroleum refining, nuclear processing and mining. When valves (devices that regulate, direct or control the flow of fluids) are located in hard to access or potentially dangerous areas, our remote valve control systems keep your employees safe and free from harm with simple and effective remote actuation. Elliott's flexible shafts connect the valve to a remotely located operating system, such as a hand wheel or the stem of a gear box.
Industrial leaders and military operations around the world recognize Elliott for our two hard-working brands of remote valve actuation systems:
Elliott SafeOperator™ Remote Valve Control Systems
Our SafeOperator brand is a robust, reliable and cost-effective method of valve actuation for standard industrial use. Features include:
Standard Flexible (FS) shaft systems and Integrated Gear (IG) flexible shaft systems are available
Versatile installation options and modular components are offered to fit any configuration, including remote operating stations, valve connection options and valve position indicator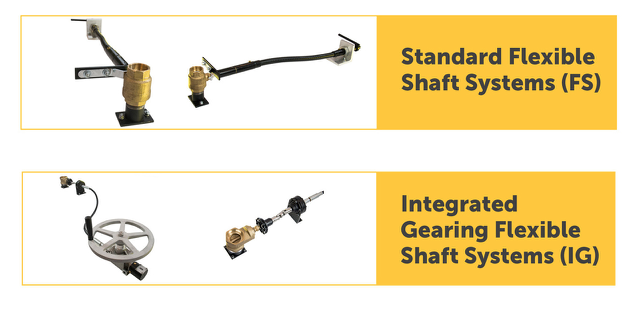 Elliott's Uniflex-Stow™ Remote Valve Control System
Our Uniflex-Stow brand is highly engineered for the most critical requirements in naval and nuclear markets where environments are hazardous and failure is simply not an option. Features include:
All components are shock and vibration tested to MIL-901C Class 1 and MIL-STD-167-1 Type 1
Uniflex-Stow flexible shaft systems have been successfully fire tested to 1300F (700C), also API 607
Immersion, pressure and salt fog tests exceed MIL-STD-810E requirements


Interested in Learning More?
To learn more about Elliott's remote valve control systems, download our new brochure now or visit us online. To discuss a customized system for your specific application, email us now or call (607) 772-0404.